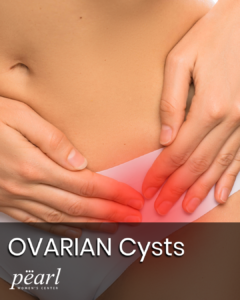 At some point during your life, you may develop an ovarian cyst. Ovarian cysts are fluid-filled sacs or growths that can form on or within the ovaries. They are most common during childbearing years but can occur at any age. Most ovarian cysts are harmless and will disappear on their own. Others, however, can produce serious symptoms or complications. Rarely ovarian cysts can be cancerous. The best way to avoid serious problems resulting from ovarian cysts is to visit Pearl Women's Center in Portland for regular pelvic examinations.
To find out more about ovarian cysts, choose the specialists at Pearl Women's Center. Ask a question, book online, or call our office in Portland at (503) 771-1883. We serve patients from Oregon, Washington, Idaho, Northern California, and Alaska.
Signs and Symptoms
Many ovarian cysts have no symptoms and are detected only during a pelvic exam or with imaging studies like ultrasound. While most cysts are benign, some cysts, particularly those that develop after menopause, may be cancerous. Pearl Women's Center urges you to protect your health and schedule regular annual pelvic exams.

Symptoms of ovarian cysts include:

Pressure, fullness, heaviness or pain in the abdomen
A dull ache in the lower back and thighs
Difficulty emptying your bladder fully
Painful menstrual periods
Abnormal bleeding
Pain during intercourse
Nausea, vomiting or breast tenderness

;
Diagnosing Ovarian Cysts
Our practitioners are experts in the diagnosis, treatment and, if necessary, surgical removal of ovarian cysts. If an ovarian cyst is either found during a pelvic examination or suspected, we will conduct further tests to identify the type, size, shape and composition of the cyst, which may include:

A pelvic ultrasound. This safe, painless imaging procedure produces real-time images of the internal structures of the pelvis. Ultrasound images are very accurate in confirming the presence of a cyst, identifying its location and determining whether the cyst is fluid filled, solid or a combination of the two.
Blood tests to assist in identifying the type of cyst.
Treatment for Ovarian Cysts in Portland, Oregon