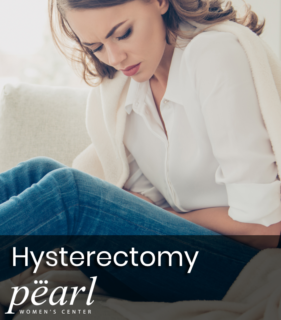 You might be suffering from a gynecologic condition for which your doctors have recommended surgical treatment. For women who are done childbearing, removing the uterus, or hysterectomy surgery is often recommended as the most successful long-term solution for a variety of problems. We perform hysterectomy surgeries in Portland, Oregon, for problems including heavy or painful menstrual periods, fibroid tumors, unpredictable vaginal bleeding, cervical disorders, pelvic organ prolapse, and urinary incontinence.
To find out more about when a hysterectomy is the right choice for you, contact the specialists at Pearl Women's Center. Ask a question, book online, or call our office in Portland at (503) 771-1883. We serve patients from Oregon, Washington, Idaho, Northern California, and Alaska.
Choosing Hysterectomy
For any medical condition, our Pearl Women's Center team recommends you first seek expert medical assistance for diagnosis and management of your concern. A skilled physician specializing in gynecology will likely perform an exam and order tests to clearly identify the cause of your symptoms. These tests could include a pelvic ultrasound, biopsy of the uterine lining, and lab tests.

If a hysterectomy is recommended, there are some very important things to consider as a patient, such as removing or preserving ovaries, removing or preserving the cervix, and the surgical approach.

Modern technology enables our doctors to perform minimally invasive surgery. This laparoscopic approach utilizes small incisions and results in a faster recovery, with less pain and few postoperative restrictions when compared to more traditional methods of surgery.
Our Approach
Dr. Richard Rosenfield is a board-certified gynecology surgeon, trained at Stanford University, who provides expertise in this surgical field and has performed thousands of hysterectomy procedures. He regularly lectures and teaches other surgeons internationally on how to improve their skills in this field.

According to Dr. Rosenfield, "Only 40% of women in a recent study were aware that minimally invasive options exist for hysterectomy, and the majority of OB-GYN doctors unfortunately do not have the training to safely perform these operations on a regular basis."

He encourages patients to learn about options and ask questions. According to Dr. Rosenfield, many OB-GYN physicians spend most of their careers taking care of pregnant patients or seeing patients in the office, which prevents them from becoming experts in the surgical side of gynecology.

Pearl Women's Center has received international attention for its unique approach to hysterectomy, with surgeons performing most of the minimally invasive hysterectomies in our on-site certified surgery center, which was designed specifically for women needing this type of gynecological surgery.

Because the center was designed specifically for these operations, the equipment used and the staff working in the facility are the very best available, avoiding the risks of hospital infection and working with unfamiliar equipment or staff.

We strive to provide the most advanced technology in a very safe and comfortable setting, oftentimes yielding far better outcomes for patients. Having the incredible opportunity to design the operating room for both the needs of our surgeons and patients has enabled us to surpass all national and international standards for safety and outcomes in laparoscopic surgery.

As an additional bonus, the cost to the patient is often significantly less due to avoidance of an expensive stay in the hospital.